Text: Kasper Malkenes Sørtun
Photo: NTNUI/Jonas Schwarzwälder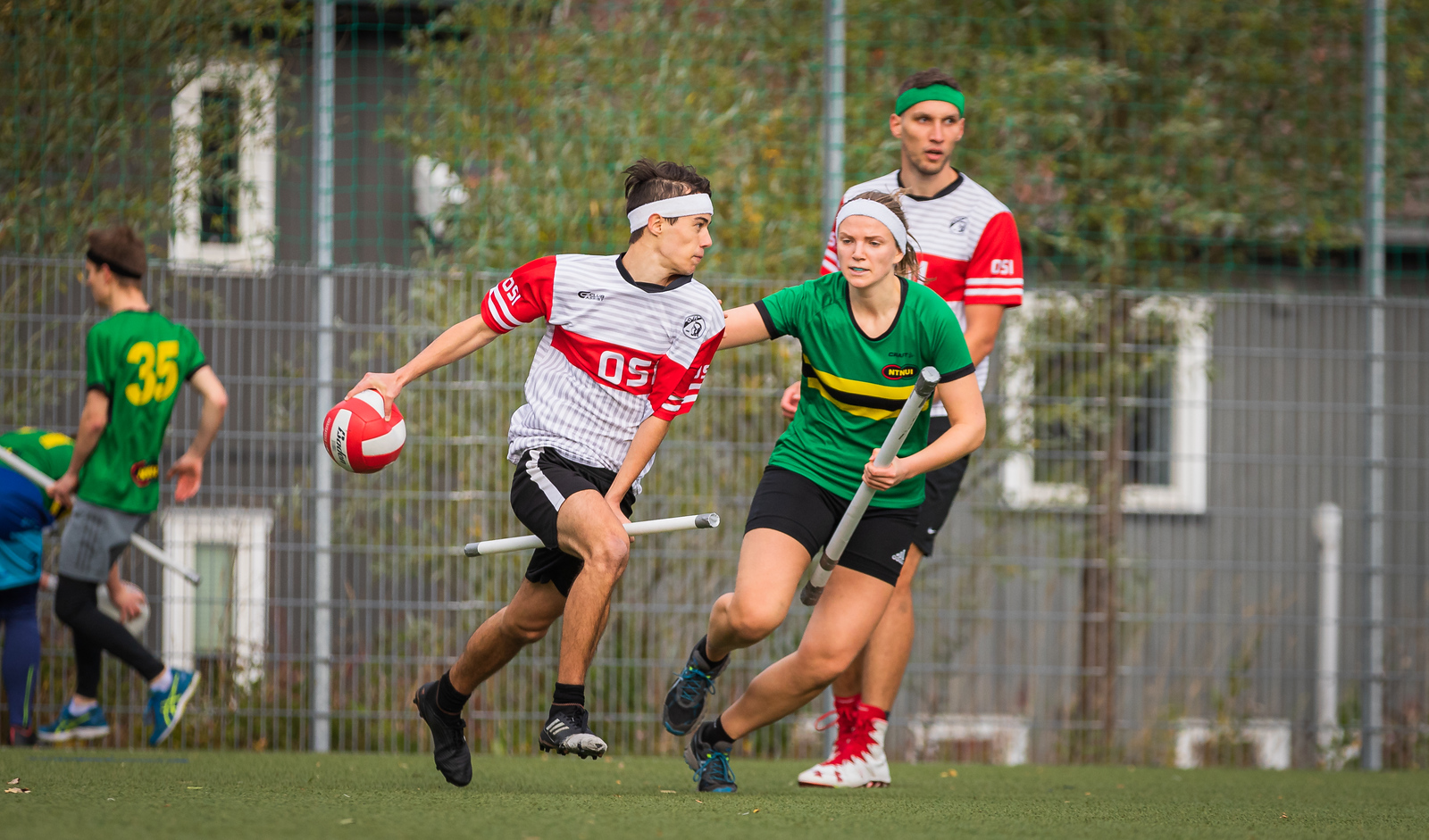 Facts:
Qudditch has grown in popularity both globally and in Norway in recent years. In norway there are 5 teams and approximately 80 players in Norway
What is Quidditch?
NTNUI Rumpeldunk will hold the first student cup in connection with the Trondheim Student Games(SG) in a few weeks.
Rumpeldunk is not like most sports, and does not have a long and proud history. It has only been around for two decades.
It is, as you suspected, from the well-known book series "Harry potter".
Rumpeldunk can be compared to other sports such as handball, cannonball and rugby.
Each team consists of a keeper, three chasers, two beaters and a seeker.
The keeper and the chasers play a bit like handball, where the goalkeeper must protect the 3 goals of his team. Chasers must score goals on the opponent's 3 goals.
Thus, you have the two beaters whose task is to shoot out opponents with a cannonball. They simply play cannonball in the middle of a handball match.
Then finally you have the seeker who is let into the game after 20 minutes. The seeker''s job is to catch the golden snitch. The golden snitch often hangs on the back of a volunteer who runs around the field.
Catching the golden snitch is worth 3 points and can either end the game or send it to overtime.
On a quidditch court, there will therefore be two teams of 7 each, where 8 play handball with 3 rings as the goal. 4 play cannonball between themselves and the other 10. Then there are two who run after the golden snitch.
All this must be done with a pvc/plastic pipe between the legs, and with full contact as in tackles.
It is played with mixed gender teams where everyone is on the same team.
It's probably a bit more complicated than football or handball, but it looks like a lot of fun. Just search youtube or check the links below to watch it in action.
Are you feeling magical?
All you have to do is sign up for the student cup here.
The registration deadline is January 20.
Some words from your host
NTNUI Rumpeldunk welcomes you to Trondheim for the first SL in Rumpeldunk. Our sport continues to grow and dunk as a regular feature in SL in the future will be a good offer for all the country's students. So join us in making this year's tournament a huge success!
Some words from Sl.
It is nice to be able to offer quidditch at SL 2023 in Trondheim. This will be the first time dunk is played in such an arena in student sports. There has long been great interest in this sport and we are looking forward to seeing how this unfolds in this year's SG.
–Mohamed Sadou Barry(Nestleder for Studentlekene Trondheim 2023)
–Mohamed Sadou Barry(Viceleader for Student Games Trondheim 2023)
Do you wanna read more or participate ?