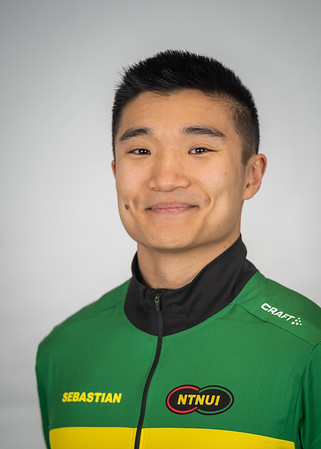 Sebastian Cheng
President
As leader, I have the main responsibility for running the organization. In addition, I represent NTNUI together with our external committee.
What am I passionate about in NTNUI?
I passionate about every student having the opportunity to exercise and do sports through NTNUI. I'm also passionate about building up and strengthening our groups so everyone can have a community they belong to!
Fun fact:
I've trained Kristofer Hivju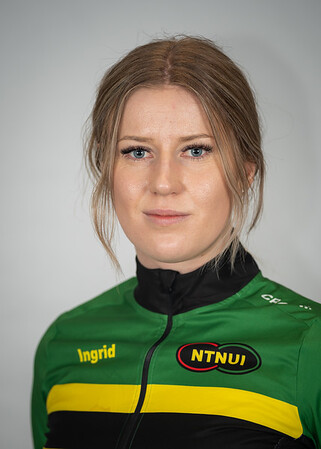 Ingrid Klokkervold
Vice President
I am responsible for assisting and supporting the leader in his work. In addition, I am responsible for documents such as minutes from board meetings and articles of association.
What am I passionate about in NTNUI?
Having NTNUI facilitate some of the best memories from your time as a student and making sure NTNUI is a safe meeting place where everyone feels welcome.
Fun Fact:
I know the scientific names of all the largest whale species.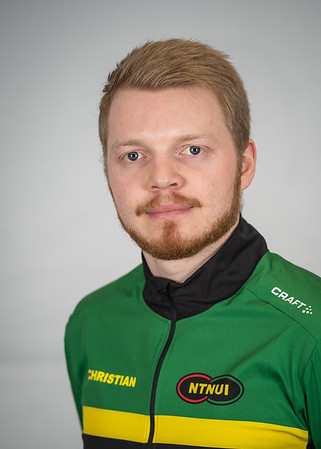 Christian Køhl
Main treasurer
As Main treasuer i have responsebilty for accounting and cash-flow. I get to participate in much of what happens in NTNUI, in the role as main treasuer i get a good conection to he diferent groupes and theier treasuers, i get to help them as well as asist them if tey need advise whit there accouting..
What am I passionate about in NTNUI?
I am passionate for a good and including sport offers for all the students in Trondheim. Sports are a big factor for ghatering difrent persons no mather what there inters are, i wish to be apart of the team that creates this inveierment where pepole can feal safe, seen and included. Im also passionet about structure for the administrative perspective for our groupes, i will happeliy work some extra houers my self to make the job for our groupes easyer.
Fun fact:
I can qoute big parts of the movie Flåklypa grand prix.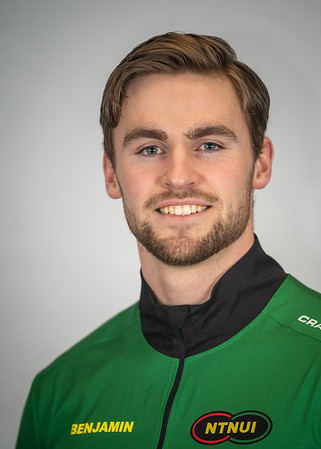 Benjamin Grimsgaard Bøe
Head of Economics
As Head of Economics, I am responsible for securing a sound operation of the club's economy. We've got over 60 different groups that all need money to arrange activities, I am responsible for securing this through budgeting processes, monitoring and ensuring the club´s income as well as cooperation agreements and sponsorship deals. The job broadly consists of supporting the group´s cashiers, administrating bank access, insurances and in general provide for as much activity as possible with the club's funds. In addition, I am involved in, and responsible of the Finance Committee that works with different economical projects and supports me in the work with the club's economy. In the committee we are trying to work with long term strategies that can secure the club with as much money as possible to generate activity for all the members of NTNUI.

What am I passionate about in NTNUI?
I´m passionate about every student's ability to do sports despite economical background and status. A lot of sports can burn straight through a student's wallet, and with the work of NTNUI we shall secure every student ability to do the sports they want to do, regardless of poor economy. In special I want it to be a low threshold for trying new sports, participate in several groups and that NTNUI shall provide equipment and funding where it otherwise is expensive and hard to get hold of.
Fun fact:
A sucker for romantic comedies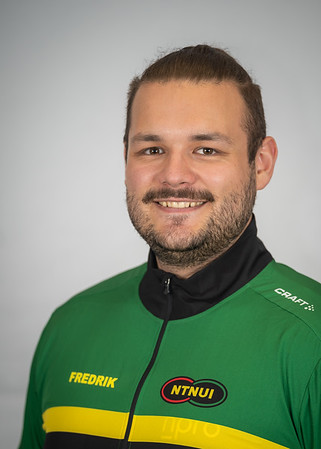 Fredrik Warvik
IT-Contact
As IT-Contact I hold the main responsibility for general information flow and our communication systems internally in NTNUI. In close cooperation with NTNUI Sprint I will make sure the right information comes to the right people at the right time. I am also responsible for the organization's handling of privacy and access administration.
What I am passionate about?
In NTNUI I am passionate about the diversity of the club, for how accessible it is with low threshold activities, to national and international accomplishments, which we are able to achieve despite hectic lives as students. I wish for as many as possible to be given the opportunity to participate in sports on the level they want.
Fun fact:
I once had 17 cups of coffee within an hour.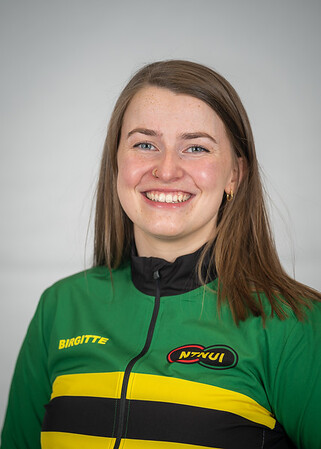 Birgitte L. Furulund
Sports director
As a sports director, I am responsible for "mosjon" and coaches in NTNUI in addition to being para-contact. I coordinate the "mosjon" sessions, which are a low-threshold offer for everyone, and ensure that coaches have the access and information they need. I am also responsible for "dugnad" – volunteer work, especially the "ryddedugnad" that the groups carry out at Sit.
What am I passionate about in NTNUI?
I am most passionate about inclusivity in sports, especially by initiatives like low-threshold activities and recreational sport. I want NTNUI to be a safe place where everyone can feel a sense of community.
Fun fact:
I am terrified of butterflies.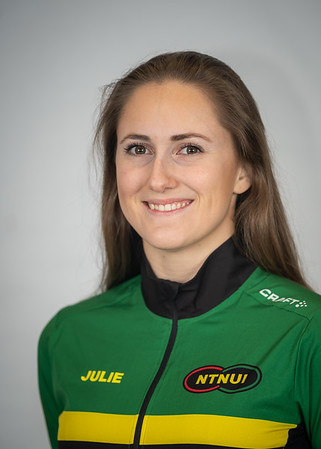 Julie Heiervang Johnsen
Equipment manager and SL-contact
As material manager, I am responsible for all clothing and materials in NTNUI. It is also my job to approve new logos and garments that the groups want to order. Furthermore, I am the club's contact person for SmartProfil, which is NTNUI's main supplier of clothing and accessories. I manage the beautiful shop on the sports building and our nice online store.
What am i passionate about in NTNUI?
I am passionate about activity and sports enjoyment in all forms. NTNUI is a community and it is something I want to work on maintaining. You are always happy to see someone in the green clothes, no matter where you are.
Fun fact:
Has been on a stage with Sigrid Raabe.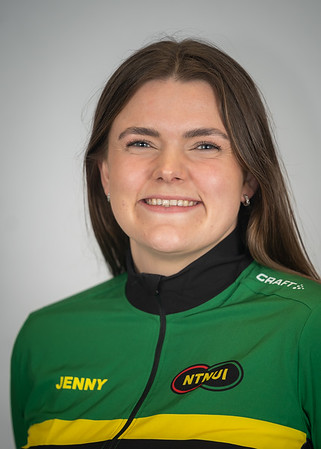 Jenny Hunvik
Events manager and aktivCampus-contact
As event manager, I have the overall responsibility for all events under NTNUI. This involves a close collaboration with Event. In addition, as a contact person for aktivCampus, I have an ongoing dialogue with that project group.
What am I passionate about in NTNUI?
I am passionate about NTNUI being a club for everyone, where everyone feels included. We already have a large and varied offer of sports, but to continue this development is important! There should be a place for everyone who wants it, and an opportunity for development – both within sports and personally.
Fun fact:
I have silver in the National Championships in snowball throwing.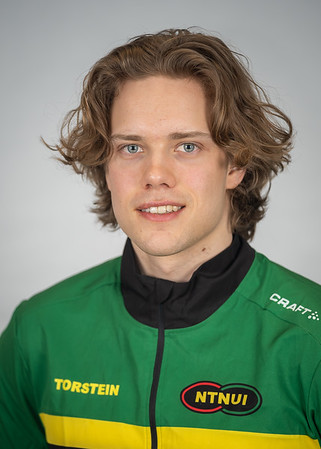 Torstein Wiiger Opsahl
Chief of external affairs and leader of the track comitee
As the chief of external affairs, I am responsibble for the political work and contact externally for the association. Which means that I help the leader when it fits in the external work. As leader of the Track Commitee I have the overall responsibility of events in Dødens Dal and Lade Arena.
What am I passionate about in NTNUI?
I am passionate for an inclusive, and diverse sports association with possibilities for a good physical and psychosocial environment. In my work I try to push the politics in the direction where we can evolve our activity areal in the best way possible for all of our groups.
Fun fact:
I had never been active in politics before I got pulled into the student parliament the Autumn of 2021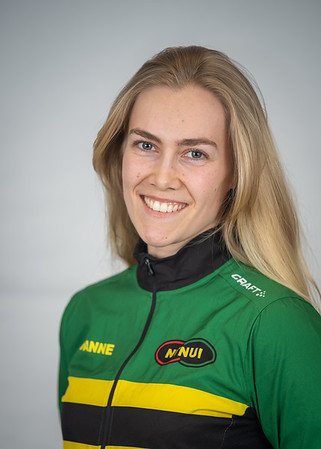 Hanne Therese Olsen
PR manager

Ansvarsområde (Engelsk) *As the head of PR I am responsible for promoting our activities internally and externally. In collaboration with our communication commitee, NTNUI Blits, we capture and perpetuate everything happening in our club. In addition I am responsible for coordinating distribution of hall times.
What am I passionate about in NTNUI?
I am passionate about the unity we create in NTNUI. I believe in low-threshold activities in which everyone can participate – regardless of prerequisites. This way we can create sport enjoyment throughout the student mass and engage in more physical activity.
Fun fact:
I make a killer guacamole.