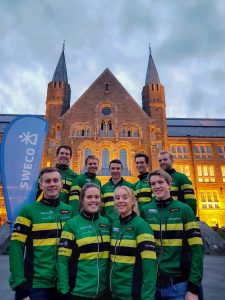 NTNUI Langrenn​ strengthens its cooperation with the engineering consultancy Sweco AS and presents team NTNUI Sweco for the upcoming season!
"This is the first team in the Visma Ski Classics that consists of students only! We are incredibly proud to give this opportunity to students that want to combine their studies and skiing at this high level" – chair of NTNUI langrenn Jørund Vala.
There are today nine athletes in the roster, including: Didrik Fjeld Elset, Erlend Nydal,Matias Noren, Olav Vestøl, Jakob Mestvedthagen, Jakob Meløy, Ole Sollien Hulbak, Anna Jensen og Camilla Lie. Besides being full-time students, these athletes have several impressive results, topped by Erlend Nydal's third place finish in the Norwegian relay ski championships.
This Tuesday, Sweco Norway's CEO Grete Aspelund and Managing director Peter Hagen signed the contract on behalf of the team's main sponsor.
"With this team, we strengthen the cooperation between NTNUI Langrenn and the student at the research and educational institution NTNU" Aspelund says.
"Our ambition is to show that it is possible to compare studies and professional sports. Our green race suits are definitely going to be noticed this winter and we will do our best to collect points for the team! However, if this should turn out not to be the reality for all of us, we do at least have a good education when our skiing careers one day come to an end" Team Manager Ole Sollien Hulbak says.