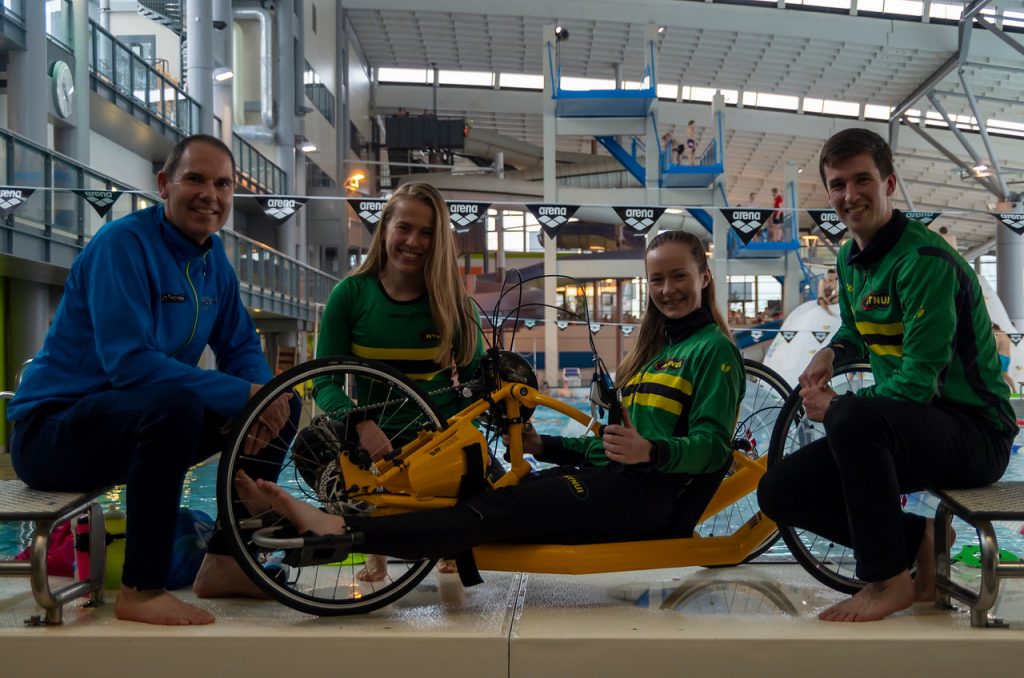 Who are we?
NTNUI Paraidrett (parasports) is a selection under NTNUI which focus on including disabled people and the rest of NTNUI in the parasports environment in Trondheim. We strive to be a low kew source of knowledge that can help with recruitment and information dissemination within para sports, but also integrate para sport in the student sport!

Parasport is sports for people with a disability. Which is "para"lel given to sports for disabled athletes, with customized equipment or rules to make sports fun and accessible to everyone. It is not the case that parasports are only for those with disabilities! Everyone without disabilities can also be included and there are several options to achieve this. NTNUI Paraidrett tries showing the opportunities for participating for everyone, for example, arranging "goal ball" during the "Studentlekene" in Trondheim and as a weekly free exercise program.

What do we do?
NTNUI Paraidrett and the main board, works on three main areas:

1. Information and skills development within NTNUI
NTNUI Paraidrett will be a source of information and knowledge on how to solve various challenges. How do I adapt a sport for people with disabilities, what kind of parasports do we actually have in Trondheim, where do we search for economical support for para sports, who should I contact if I want to participate or help?

2. Free rental of para equipment
In collaboration with NTNUI Bumerang, NTNUI Paraidrett lends out brand new para equipment for free. The equipment consists of a tandem bike with a motor, a hand bike, two sledges (one sitting and one kneeling) and two athletic wheelchairs for running tracks. These are located at Moholt and it is desirable that board members also contribute in NTNUI Bumerang.

3. Bank of volunteer to maintain the offers in Trondheim
There is several existing para offers available in the local sports clubs in the city, and many of these need more volunteers to keep the wheels running. It can be anything from very small practical tasks like keeping order, developing equipment and helping the athletes – or to be a coach or a team leader. Or simply to play/participate, even if you do not have a disability because especially the sports teams are struggling to recruit enough para athletes! We are therefore in the process of promoting a volunteer bank where you can announce your interest and "be handed out" where needed – whether in wheelchair rugby or as a training friend at SIT.
Why should I apply and who are we looking for?
Everyone who wants is warmly welcomed. There is no requirement for prior knowledge or experience with parasports, but rather a need for dedication and a curious approach to new learning! Parasports is a small but large field with huge possibilities. With a focus on the enjoyment of movement and activity, we cover many areas with opportunities for both conservation and development – both together and individually. The board works closely together, so here you get to know nice people and are included in the loving NTNUI family!
Application is not binding and opens only for a pleasant conversation. Feel free to contact us with questions – you can find us on facebook (@NTNUI Paraidrett), instagram (@ntnuiparaidrett) or e-mail: paraidrett@ntnui.no.

We hope to hear from especially you!