Text: Pernille Svartveit Osmundsen
Photo: Pernille Svartveit Osmundsen, Eirik Halvard Norseth & Leonie Richarz/NTNUI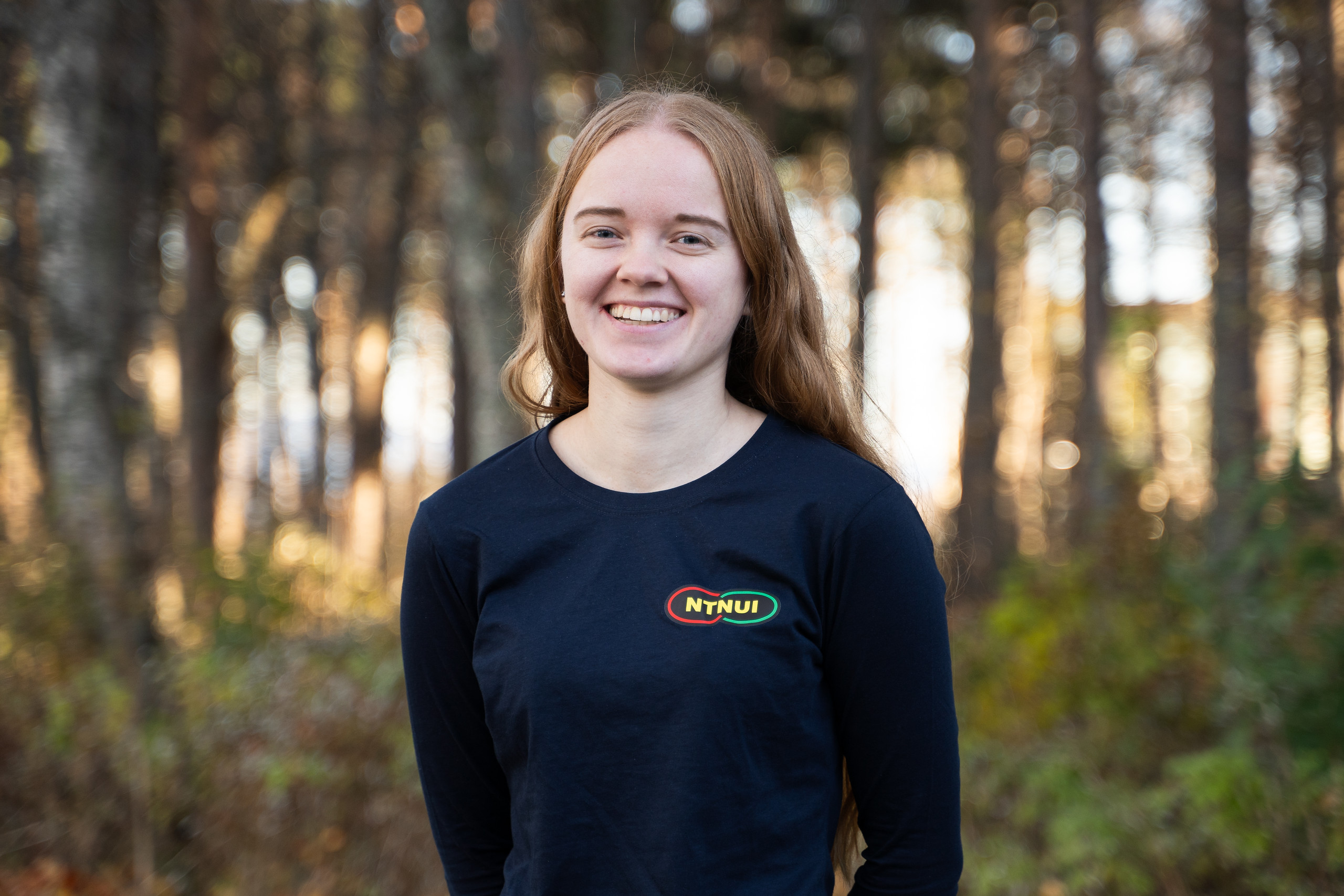 In NTNUI's column "Volunteer of the Month," you get to meet some of the dedicated volunteers in NTNUI who contribute invaluable efforts. In October, you will meet the deputy chairperson of Volleyball, Karoline Ruud Dahlen.
Facts about Karoline

Age: 24 years old
Group: Volleyball
Years in NTNUI: 6 years
Voluntary position: Two years as deputy chairperson of Volleyball and three seasons as coach
Field og study: Graduated bioengineer
We meet a cheerful Karoline, who is a bit surprised by the nomination, but who is she really?
I'm very fond of sports. That's probably a big reason why I'm still here (in Trondheim). Before I moved here, I had this idea that "I'll be here for three years, I'll get my bachelor's degree, and then I'll go back home." But then NTNUI happened, and I ended up staying for at least three more years.
What was the biggest factor that kept you in Trondheim?
NTNUI. It's an incredibly great club. There's a strong sense of community, and there's always something happening. The sports are a lot of fun, and there are so many wonderful people. You make friends across teams and groups, and it's just a great environment overall.
How did you end up in NTNUI?
I had heard that Trondheim is a great city for students in general. So, I had my sights set on Trondheim for that reason. I also got introduced to volleyball at a folk high school (folkehøyskole). I found out that NTNUI had a very good volleyball team, so I went to the tryouts and made the team.
But why are you so involved?
Volunteering is so much fun. And it took a couple of years before I took on any special roles, it's also so that I can give somthing back. NTNUI has been essential for my well-being and my daily life as a student in Trondheim. Now, I can contribute to ensuring that others have the same great experience I've had.
How is it to balance your roles with your studies?
It does take a lot of time. You need to be engaged and motivated enough to make everything work. Each day becomes quite packed. But it's also very rewarding, so it's definitely worth it. Even though it's tiring, it also gives you energy.
How is it now that you're working?
Life becomes quite different. When I was a student and felt that there was a lot going on in terms volunteering, I could put deprioritize my studies for a while. But now, I can't call my job and say, "Hey, I can't come to work today because I have NTNUI stuff to do." So, I have to be more structured in terms of working during the day and NTNUI in the evenings, but it works out somehow.
If you could change one thing about NTNUI, what would it be?
I would have even more sponsors, so it would be even more affordable for members to participate. I think people would really appreciate that.
What's your relationship with NTNUI's colours?
The colour combination is quite bold, it is. I knew before I joined NTNUI, I was like, "Why do they wear these colours?". But you grow to love them over time. It's something that stands out, and it's actually kind of fun. When you're at a game, wearing the windbreaker, and everyone can see it's NTNUI, it makes you proud.
Where do you see yourself in 5 years?
Hopefully, I'm still playing volleyball, and hopefully, I'm still active as a volunteer in some club, whether it's here in Trondheim or somewhere else in Norway. I want to carry these experiences forward.
You have one million you can use for NTNUI – what would you spend it on?
It's a bit of a short-term plan, but it would be to reduce travel expenses for members. However, we would eventually run out of money. If I could multiply that one million by a lot of digits, we could build a new sports hall. That way, more people would have more training time, better training schedules, and more people could join. But it's challenging with just one million.
What other sport would you like to try in NTNUI?
I played handball for quite a few years, up until high school, so that could be fun. I've always been fascinated by gymnastics, so I think that would also be fun to try.
If you didn't have roles in NTNUI, where would you prefer to get involved?
Now I'm almost thinking, "What happens outside of NTNUI?". It might be fun to get involved with the Red Cross and contribute in that way, or perhaps with the People's Aid and similar organizations.
The coolest thing you've worked on in NTNUI?
I find it very enjoyable to contribute to the major events we have. Especially when our top teams are in semifinals and such in the national championships. Creating something substantial around it, and seeing the enthusiasm in the arena during those games, with everyone showing up. In general, social events for the members, where everyone can come together and meet. That's rewarding.
Who would you prefer to be stuck in an elevator with?
Taylor Swift, I'm a huge fan. She could have a private concert in the elevator.
Roing's tights or devil's hat?
Devil's hat, I think they're really cool.
Director of Sit for a day or rector for a day?
Director of Sit, I think. It sounds more fun than being a rector. Manage the hall and all that.
The volunteer of the month is a regular column created by the promo team in collaboration with the photographers in NTNUI Blits. Would you like to nominate someone for the firebrand of the month? Send to blits-promo@ntnui.no