Tindegruppa owns and operates two facilities for indoor climbing: At the sports building at Gløshaugen there is a bouldering wall, while at Dragvoll sports center there is a larger climbing wall.
The facility at Dragvoll consists of two overhanging walls and a vertical wall, each wall is about 12 meters.
Equipment:
– The wall is equipped with quickdraws and a screwgate and a wiregate carabiner for the top anchor.
– It is required that individual climbers have their own personal equipment such as shoes, harness, rope and belay device.
The difficulty level of the routes ranges from 4 to 8 (Norwegian grade), with emphasis on routes in the six and seven range. The routes are color coded and usually follow only one row of bolts. Some old competition routes cross several bolts. There is a white board on the back wall that lists all routes and their respective difficulty.
At DragWall you are welcome at every level as long as you can properly secure yourself and have a Brattkort (Norwegian climbing card)! If you are an exchange student(or any other student) and you know how to belay, but you do not have a Brattkort, you can send a message to Tindegruppa on Facebook, and we can arrange a Brattkort test(belay test) for you.
Errors or deficiencies on the wall are reported to DragWall staff.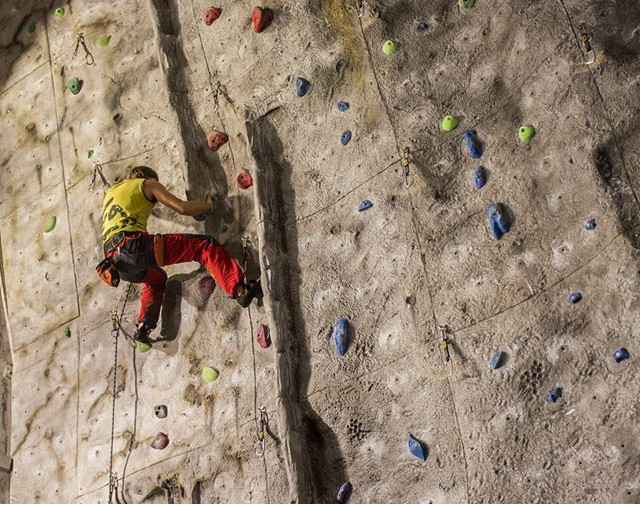 Prices and Opening Hours
In order to use the climbing wall you must have an access card to Dragvoll Sports Center (SiT membership)
In addition, you have to pay 25 kr for drop-in to the climbing wall or buy an annual pass. This is paid at the reception at Dragvoll Sports Center. This money goes to SiT sports for the operation and maintenance of the climbing wall.
Annual pass
Members of NTNUI-Tindegruppa can purchase an annual pass for DragWall at the reception of the Dragvoll sports center for 300 NOK. The annual card is valid for the school year. Half-year passes are not sold.
OPENING HOURS
DragWall has the same opening hours as Dragvoll Sports Center. https://www.sit.no/trening/treningssenter
The climbing wall can be temporarily closed during courses so check the courses page here or the Tindegruppa Facebook page for more information.
Beginner courses
Tindegruppa strongly recommends that you take a climbing course before you start climbing. It is also possible to train friends on their own, but there are some things to keep in mind.
If you need to start now, we recommend that both beginner and "teacher" follow our little tutorial
The most important thing about training a beginner is that they learn correctly and are taught correct belay methods. It is therefore important to practice this before you start climbing.
First of all, explain what kind of equipment is used, which knots we use and why we do what we do. Explain how the harness works and what functions it has.
Training Handbook
1. The experienced climber should hang the rope in the first quickdraw to help provide a better understanding of what goes up and down.
2. Demonstration of correct belay technique. Always keeping one hand on the 'brake' end of the rope is most important!
3. The beginner will try to belay while the more experienced climber pulls the rope. Pull the rope both ways. This will help the belayer learn lead climbing and top rope.
4. Practice lowering the climber.
5. If everything goes well and everyone feels safe, you can start climbing. There must be THREE Climbers present, since the experienced climber shall have direct supervision for the safety of the climber without a Brattkort. This means one experienced climber shall stand on the ground next to the inexperience belayer and hold the brake end of the rope while the climber is on belay. Thus, there must be two climbers with Brattkorts present in order for one beginner to be able to secure / belay.
6. Climb to the first or second bolt and hang on the rope. This will provide a sense of what forces are acting on the system.
7. Climb to the top and hang from the top anchor.
8. Furthermore, we refer to the statement of responsibility and provisions for NKF's Brattkort, which all parties must be made aware of.
If you have any questions, please contact DragWall Manager: tindegruppa-dw@ntnui.no, or send a message to Tindegruppa on Facebook.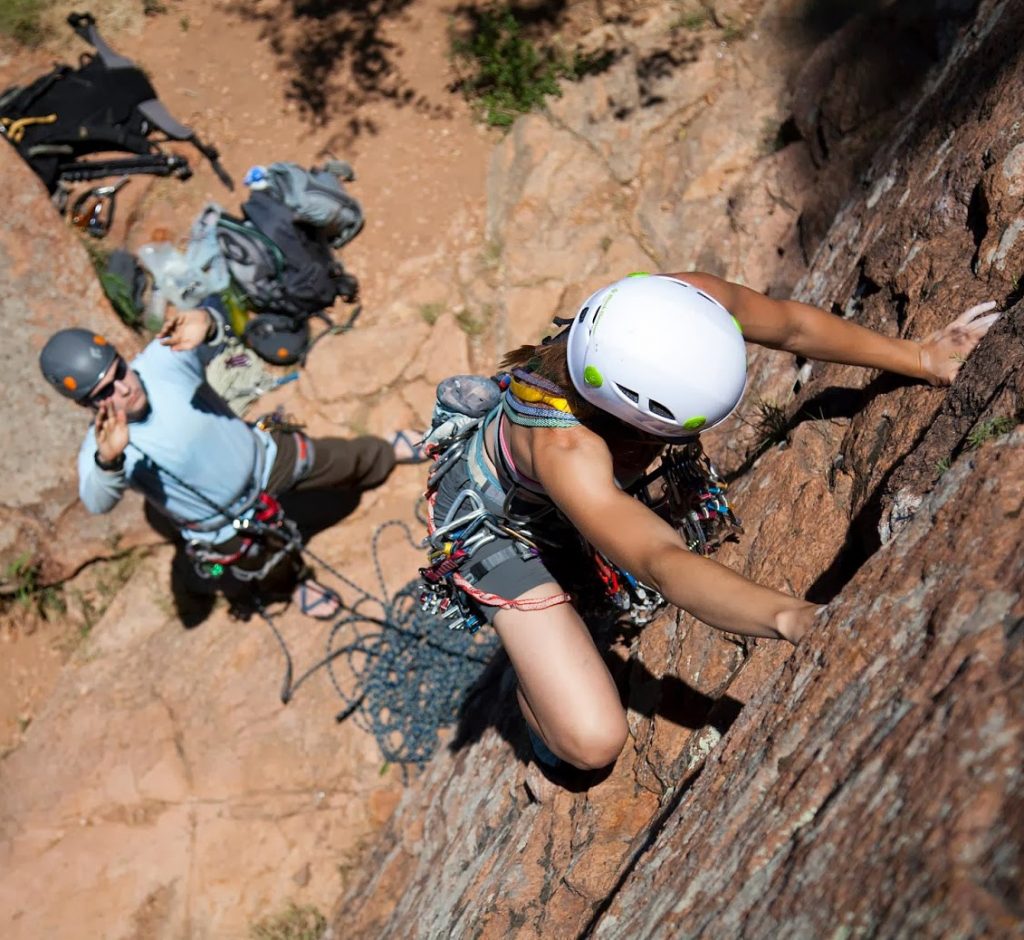 Safety Rules at DragWall
A Brattkort is required to climb at DragWall
The following rules are not debatable and should always be followed.
Generally:
Beginners should always be accompanied by an experienced climber with a Brattkort.
A figure-eight knot should always be used for tying-in and should be threaded through both tie-in points on the harness.
The carabiner for the belay device should only be clipped to the belay loop.
When using a belay device (tube device, ATC, Grigri etc.) there should always be a closed hand on the brake side of the rope.
With top rope, the guiding hand must be changed with the braking hand every time, i.e. a closed hand around the brake end of the rope at all times. (see above)
When belaying a lead climber the rope can have some slack in it between clips.
When lead climbing, all intermediate quickdraws should be clipped.
When climbing on top rope, both top anchors must be clipped in.
If top roping on the overhanging walls, the rope of the climber must be clipped into at least one quickdraw on the way down so that the climber does not swing out into the room in case of a fall.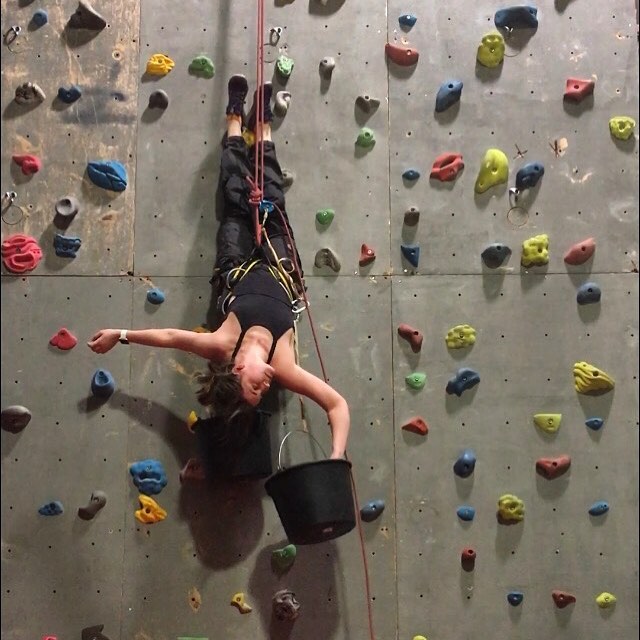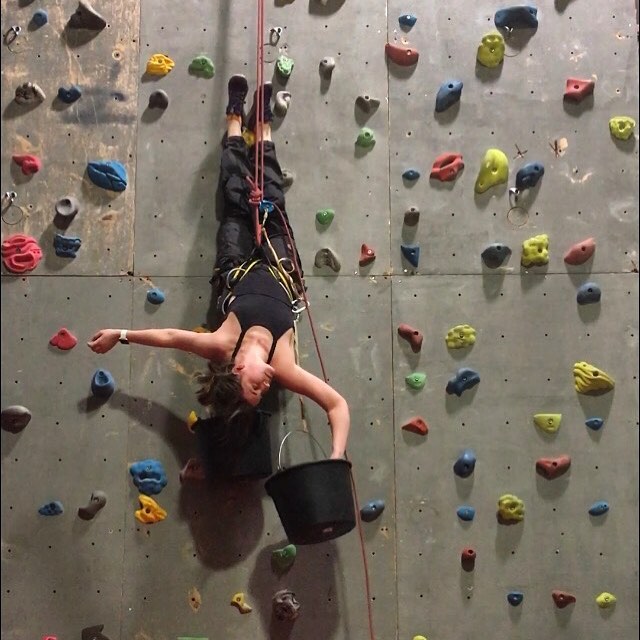 Route setting
Are you interested in setting your own route on DragWall? Anyone can try route setting and can receive some compensation the job. Contact the DW manager.