New year! New semester! And the yearly annual meeting which will be held Monday January 27th at 8:00 pm. This is our most important meeting throughout the year so we hope you will prioritize our meeting! It will be pizza!
Link to the facebook-event: YEARLY MEETING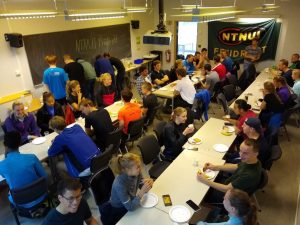 On the meeting we will go through:
Masterplan: guidelines for the group.
Election of new board.
Summary of the year 2019.
What we are going to do/should do in 2020.
Fjellseterløpet; our biggest event!
Clothing in NTNUI Friidrett.
Extra.
The most important part of the annual meeting is election of the new board. They will replace the remaining board this semester. For the election process it's put togheter a group – the election committee – which consists of Anna Liv L. Aasen, Erlend Hansen, Clément Suberchicot and Karoline Hammer. This group works with electing candidates for the board and will evaluate them by doing some interviews in advance of the meeting. The election committee will propose a new board at the meeting which we will vote on afterwards. The members of the election committee can not be elected for the board in NTNUI Friidrett.
Are you interested in joining the new board in NTNUI Friidrett and contribute to the biggest sports club in Norway?
Fill out this form (deadline 21.01.20):
Are you interested, but unsure of what the different board roles involves? Here is an overview to explain some duties!
Leader
Lead
Contact for the board
Make sure the rest of the board is fulfilling their responsibilities
Second in command
Support leader
Member registration
Writing meeting reports
ACCOUNTING
Check the physical mail shelf
Budget: Making a budget together with the board and making sure it is followed.
Evaluate invoices, and pay the ones that should be paid.
Refund members that have prepaid (accepted costs)
Apply for financial support
EVENTS BOARD MEMBER
Any sports event that we decide to have
First aid and security at events
Sports coordinator
Manage trainers and first aid for trainings
Facilities (track, gym, keys)
Announce trainings
Competitions (encourage signing up)
InformatioN
Storage of files (Google Drive, binders)
Communication checkup
Promoting
Web pages, social media (instagram, facebook)
Clothing in the group
Hjalmar
Social
Social events
Balancing variety of events
Encouraging members to arrange and participate in social events
Analysing the social situation in the group
Beermile (spring and fall)
The board works together and split up the tasks. This overview is not set in stone and the new board could decide to change it up, but this task distribution is the current one in the Masterplan.

Members of the remaining board can be found here: LINK BOARD
Masterplan: LINK MASTERPLAN