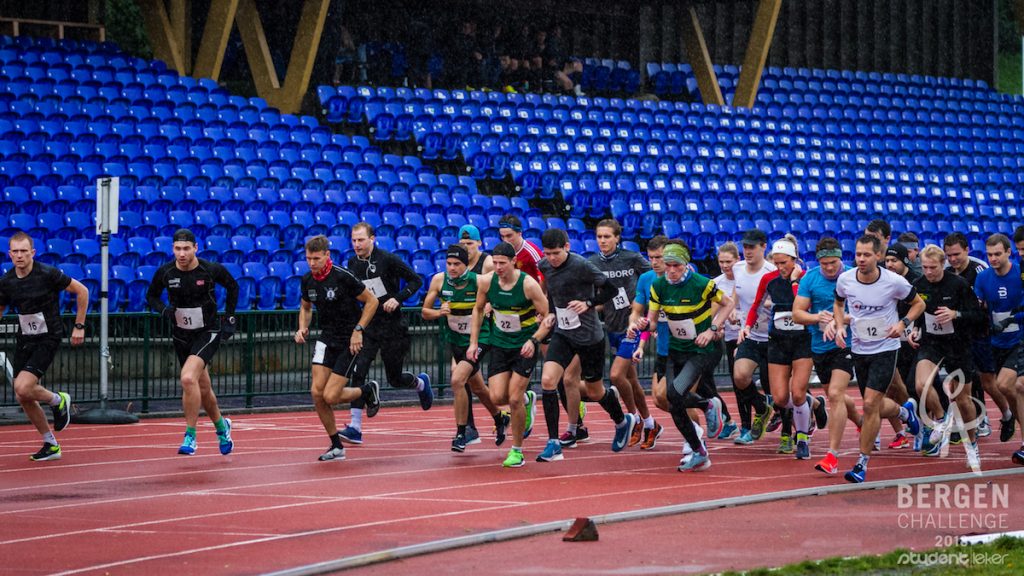 This weekend, runners from NTNUI Friidrett attended at the Student Games in Bergen competing in several of races from 100m to half marathon. With some good results, NTNUI won the total athletics competition!
(Results below!)
Friday
On Friday there was competition in 100m, 200m, 800m and 4x 200m relay. Three runners from NTNUI competed in the distances at Fana Stadium. Nice to see our former leader and sprinter, Svenn Helge Vatne, making a good figure at running the 100m and 200m. Gold at the 100m and bronze at the 200m 30 minutes after was a result in respect of!
Saturday
On Saturday morning it was time for the half marathon. Three attendants from the group was ready, although two were a little affected after yesterday's races.
This is what one of the runners, Erlend Hansen, experienced:
The days before the half marathon I checked the weather forecast, and it reported heavy wind and a lot of rain. Typical Bergen. This one was going to be a tough one.
As we moved to the start at Fana stadium Saturday morning, the rain poured down leaving us soaked before the start. We discussed a bit about clothing, but the temperature was fine, and I decided to run in singlet and shorts leaving the gloves behind. More clothes were going to slow me down anyway because of the rain. My legs were fresh and ready because I had not been racing the day before like Magnus and Jonas, and I did a good warm-up before the start. I was a bit concerned about Magnus complaining about a bad knee, but he said he was trying to run anyway and see how it goes. It turned out not to be such a bad idea.
After the start, we quickly became a group of 8 people in the front. After staying in the group for 3km with a pace around 3:30 min/km, I decided to let them go and run my own race because this was going too fast for me! I was surprised by the speed of the other runners, but I had to think of my own battle. There were still 19 km to beat. I was happy with the pace I ran, although parts of the road were like running in a stream! I overtook the 6th place after 8km and cheered for Magnus in front and Jonas when I was by rounding (the track was 10.6 km back and forth). I managed to keep up the pace to the finish line and was quite happy with the result! Almost beat my pb with 3 minutes from racing the half marathon in Trondheim 6 weeks back! Shocked by the win from Magnus with a super strong 1.13:30 (!) we moved back to the accommodation for a hot shower and preparing for the banquet in the evening ending the Student games in Bergen.
Results:
100 m
| Place | Name | Team | Time |
| --- | --- | --- | --- |
| 1. | Svenn-Helge Vatne | NTNUI | 12.82 s |
| 2. | Apoorvan Sockanathan | NHHI | 14.59 s |
200 m
| Place | Name | Team | Time |
| --- | --- | --- | --- |
| 1. | Øystein Aas | BSI | 25.06 s |
| 2. | Lasse Tollefsen | BSI | 27.50 s |
| 3. | Svenn-Helge Vatne | NTNUI | 31.60 s |
800 m
| Place | Name | Team | Time |
| --- | --- | --- | --- |
| 1. | André Juvland | TRIMIUS | 2.08 |
| 2. | Jonas Riseth | NTNUI | 2.08 |
| 3. | Magnus Winther Warvik | NTNUI | 2.18 |
4 x 200m relay
| Place | Team | Time |
| --- | --- | --- |
| 1. | NHHI | 1.47 |
| 2. | BSI | 1.50 |
| 3. | HiBI | 1.53 |
| 4. | NTNUI | 1.56 |
Half marathon – men
| Place | Name | Team | Time |
| --- | --- | --- | --- |
| 1. | Magnus Winther Warvik | NTNUI | 01:13:32 |
| 2. | Martin Kristiansen | NHHI | 01:14:00 |
| 3. | Arne Kalland-Olsen | NHHI | 01:16:35 |
| 4. | Arne Nygård | NHHI | 01:16:52 |
| 5. | Jonas Riseth | NTNUI | 01:17:23 |
| 6. | Erlend Hansen | NTNUI | 01:18:40 |
| 7. | Bjørn Alexander Hovland | HiBI | 01:19:31 |
| 8. | Martin Digranes | NHHI | 01:19:38 |
| 9. | Erik Vadla | BSI | 01:19:42 |
| 10. | Petter Elias Røkke | NHHI | 01:23:51 |
| 11. | Anders Austad | HiBI | 01:24:05 |
| 12. | Even Årekol | NTNUI-Ålesund | 01:24:09 |
| 13. | Viktor Svensson | HiBI | 01:25:08 |
| 14. | Erlend Solhaug Myklebust | NHHI | 01:26:17 |
| 15. | Petter Ihlebæk | NTNUI | 01:26:32 |
| 16. | Sigurd Bøe | VSIL | 01:27:36 |
| 17. | Håkon Andresen | OSI | 01:28:30 |
| 18. | Thorvald Mosvold | NHHI | 01:30:08 |
| 19. | Erlend Godager | NHHI | 01:31:40 |
| 20. | Håvard Lergernæs | NHHI | 01:35:24 |
| 21. | Nicolai Hoel | NMBUI | 01:36:15 |
| 22. | Antonio Johansen Cubedo | NTNUI-Ålesund | 01:53:05 |
| 23. | Caspar Vinje Hagland | NMBUI | 01:53:42 |
| 24. | Nicolai Birkeland | GSI | 02:04:08 |
| 25. | Edward El Hayek | VSI | 02:04:18 |
Half marathon – women
| Place | Name | Team | Time |
| --- | --- | --- | --- |
| 1. | Karoline Saltemark | NHHI | 01:35:40 |
| 2. | Julie Osen | NHHI | 01:40:53 |
| 3. | Malene Knutsen Breivik | HiBI | 01:41:43 |
| 4. | Ragnhild Seim | NHHI | 01:45:09 |
| 5. | Sunniva Riibe | MRK Bergen | 01:45:17 |
| 6. | Siv Simonsen | HiBI | 01:45:56 |
| 7. | Elin Farestveit | NHHI | 01:48:24 |
| 8. | Iris Einarsdottir | NHHI | 01:55:55 |
| 9. | Ingrid Beisland | NHHI | 01:56:15 |