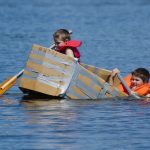 Every year we arrange a novice course for new members in September. This is a course lasting two days on Jonsvannet where we give new members an introduction to rowing as well as a course in proper handling of the boat and other equipment.

This course has a can only teach a limited number of beginners, and there are normally 24 people who are given the opportunity to join. You will often have to write an application to be considered for the course. This course is mandatory for all new members looking to use our boats.
2022:
Novice course will be 17-18 September in Trondheim, at Jonsvatnet.
Please follow us on Facebook and Instagram to follow up when we post application form.
Important notice: applications to the novice course are done through mail(roing-nestleder@ntnui.no) and not in the comment section!