Danmark
September 27 @ 10:00 pm

-

October 3 @ 10:00 am

Free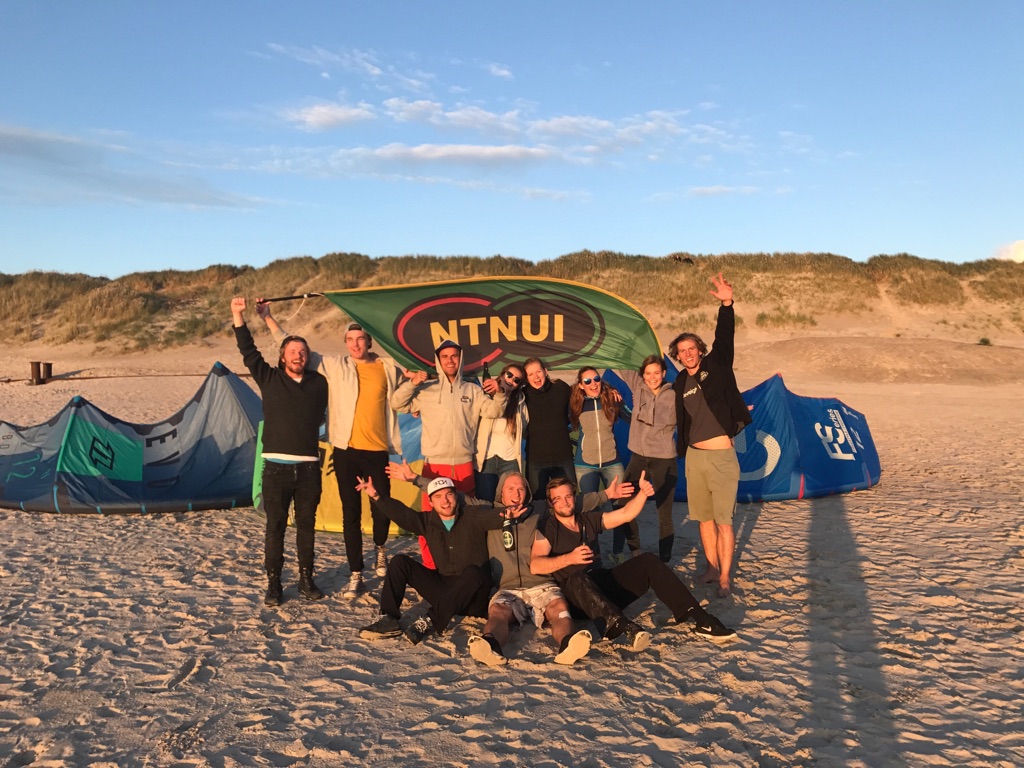 –ENGLISH BELOW–
NB: Man må være NTNUI-medlem for å være med på tur!
Høstens store kite-event er her!! De siste 4 årene har vi rullet ned til Danmark og kost oss med vind og forhold som passer alle. Her er det alt fra flatt vann og grunne for de som kun har hatt kiten i luften noen ganger, til 5 meter bølger og ruskete bakoversveis. Med andre ord, en tur som passer for deg, uansett hvor eplekjekk eller forsiktig du måte føle deg. Det er stor sjanse for mange kitedager og mye vind, i tillegg til at spottene er helt fantastiske!!
Påmelding
Vær klar mandag 13. september klokken 12.00. Sikre deg billett først som sist. Torsdag 16. september kl. 12.00 må pengene være betalt, så vi kan bestille biler, ferjer o.l. i god tid.
Avreise og transport
Vi har avreise Gløshaugen klokken 22.00 mandag den 27.sept. Møt opp med godt humør og en god pute. Vi kjører til Danmark og hopper rett i vannet når vi kommer ned tirsdag morgen. Vi reiser hjem igjen natt til søndag i samme gode stil.
Vi trenger biler for å komme oss ned, og dersom du har en privatbil håper vi at du kunne tenkt deg å ta den med på turen! Du vil få en svært god kjøregodtgjørelse på 2,50 kr per km, i tillegg til at bompenger og ferje blir dekket. Send en mail til hakon.drangsland@ntnui.no dersom du kan stille med bil!
Hvor bor vi?
Det er lite du trenger å tenke på, det blir hus med gode fasiliteter. Har du ikke vært med før pleier det å overraske i den positive enden av skalaen. Det blir svært nærme spot og strand!
Mat
Alt er inkludert i prisen foruten om mat og drikke. Vi lager et spleiselag av dette når vi kommer ned og gjør opp på Vipps på vei hjem. Fellesskapet i kitegruppa står sterkt, og ingenting er bedre enn å samles til gode måltider sammen og snakke om alt man har lært på vannet!
Pris
1950,-. Dette inkluderer all transport og overnatting. Pengene overføres til kontonr. 8601.43.53056 med melding "<ditt navn > + Danmark" innen torsdag 16. September.
Leie av utstyr
Dersom du ønsker å leie utstyr vil dette koste 500,- for hele turen. Send en mail til frank.daniels@ntnui.no dersom du ønsker å leie utstyr! Her er det førstemann til mølla som gjelder. Egenandel ved skade er 2000kr.
Pakkeliste:
– Våtdrakt
– Kiteutstyr (Kite, bar, brett og trapes)
– Toalettmappe
– Sengetøy eller sovepose
– Varme klær
– Håndkle
– God stemning og et smil
– (Kamerautstyr)
Woop Woop!!
NB: Påmelding for ikke-NTNUI'ere gjelder muligheten til å overta ledige plasser i huset i Danmark.
Kontaktinformasjon:
Håkon: 41 66 68 92, hakon.drangsland@ntnui.no
Frank: frank.daniels@ntnui.no
Maja: maria.skjeltorp@ntnui.no
Personvernerklæring:
– Ved å melde deg på denne turen samtykker du til at opplysninger du gir fra deg kan brukes av NTNUI kite til praktiske formål i gjennomføringen av dette arrangementet, og for at NTNUI kite skal kunne kontakte deg for å gi oppdatert informasjon om arrangementet. Det er frivillig å gi fra seg alle opplysninger og samtykket kan når som helst trekkes tilbake. Dette gjøres ved å kontakte arrangøren.
– NTNUI kite og våre tillitsvalgte vil ikke gi fra seg dine opplysninger til en tredjepart uten videre samtykke eller ved rettslig pålegg.
– Ved å delta på arrangementet aksepterer du å bli tatt bilde av. Bildene kan brukes fritt i NTNUI markedsføring og kan deles på media. Ønsker du ikke dette må du melde fra til arrangøren og/eller fotografen.
– Covid-19: Dine opplysninger vil bli brukt for smittesporing i henhold til pålegg fra myndighetene.
— English —
The most beautiful adventure of the year! You guessed it! DENMARK! We have a somewhat long tradition of going there, and it is amazing every time! The trip is suitable for every kiter!
Signup
Be ready on Monday the 13th of September at 12:00 to get at ticket. The payment must be made by Thursday the 16th of September 12:00.
Departure
We will leave from the usual place in front of the Main Building at Gløshaugen at 22:00 on the 27th of September. Remember to bring a nice pillow – it's a heck of drive!
We will return to Trondheim on Sunday morning.
We need cars from the attendees to get down there, so if you have a car we would love if you could bring it! You'd get compensated very well, with 2,5NOK per km in addition to toll and ferry. Send hakon.drangsland@ntnui.no an e-mail if you have a car.
Where will we be staying?
This is a bit of a surprise, but it will not disappoint! Very close to both the spot and the beach.
Supplies
Everything but food and drinks is included. This will be sorted through Vipps.
Price:
1950,- NOK. This includes all transport and overnight stay. The money must be transferred to account no. 8601.43.53056 with message "<your name > + Danmark" by Thursday the 16th of September. Let us know if you need IBAN/Swift.
Rental of gear:
It's possible to rent gear on this trip, and it will cost 500,- NOK for the full trip. Let frank.daniels@ntnui.no know if you would like to rent! In the event of equipment damage, the renter is responsible for up to 2000 NOK.
Pack the following (at least):
-Wetsuit
-Kiting equipment
-Toothbrush
-Linen or sleepingbag
-Warm clothes
-Towel
-A HUGE SMILE
-(cameragear if you are into taking pictures)
Woop woop!!!
Contact:
Håkon: 41 66 68 92, hakon.drangsland@ntnui.no
Frank: frank.daniels@ntnui.no
Maja: maria.skjeltorp@ntnui.no
Privacy statement:
– By attending this trip you agree to let NTNUI kite use your personal information for practicacal purposes under the planning of this trip. NTNUI kite can also use this information to contact you with updated trip information. It is vulantary to give us your information and your can withdraw your consent at any time by contacting us.
-NTNUI kite and our volunteers will not give your information to a third party without further consent or legal order.
– By attending this trip you agree to be photographed throughout the event. The pictures can be used freely in the marketing of NTNUI and can be shared on our platforms. If you don't accept this you have to contact us or the photographer.
– Covid-19: Your personal information can be used for tracing the virus according to the order by the authorities