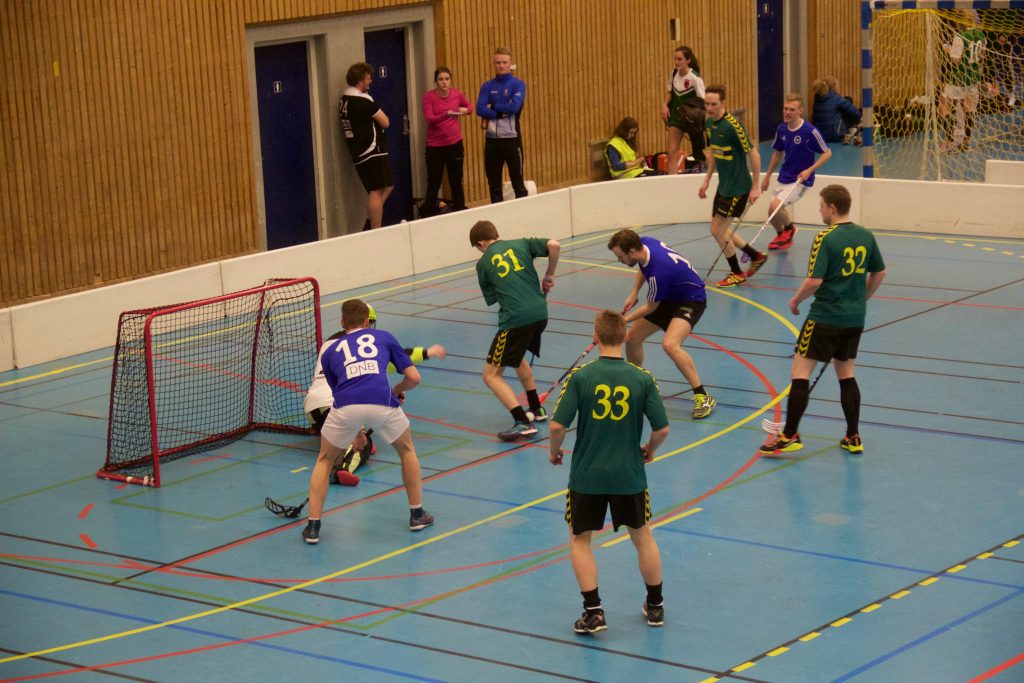 Hello!

Do you want to play floorball? Are you looking for some information about the offer NTNUI Floorball has for students in Trondheim? Keep reading!

This blog post is divided into different categories, which means that you can choose to read what suits you best. We have an offer for everyone, whether you have a lot, or zero, prior experience with floorball. I hope you find the information (and motivation) you need below, and remember us when the semester begins!
1. If you want to try floorball for the first time
Are you an exchange student looking for an activity outside of campus? Welcome! We have teams who focus on the social and fun aspects of the sport, but still have amazing coaches who make the teams better and better each year. Feel free to bring a friend (or several!), and join practice hours when you feel like it. If you plan on participating all season/semester, we would love it if you start participating from the beginning of our tryouts (August 19th). This way, you will get to know everyone from the beginning.
If you want to join, all you need to bring is gym wear and indoor shoes. We have all the other equipment, such as floorball sticks and goalie equipment. If you want to take a look at our training hours, check out D3 (ladies' beginners team) and H3 (men's beginners team) in the "Teams and Training Hours"-section.
2. If you have some experience from before (Ice-hockey included!)
If you find yourself in this category, you will probably be a good fit for our 1st or 2nd teams. I would recommend you to tryout on any practice, and feel what level suits you. Our 1st female team (D1) and male team (H1) are aiming high, hoping to win the local series, first division "Midt-Norge", the coming season. If you want to be on the safe side, make your first appearance at the combined training hours (D1/D2 or H1/H2)!
Tryouts take place between the 19th and 30th of August. You don't have to participate at all practices, but make sure that the coaches have your name and contact information. When tryouts are over, the coaches will put you in the team that they see fit.
3. If you are not a student, but still want to try-out for NTNUI Floorball
NTNUI Floorball will have to apply to the central board of NTNUI for non-students to be part of our teams, but given the right reasons, it is possible to join. What you have to do is participate at the tryouts like everyone else, and contact the team coach or the floorball club leader (innebandy-leder@ntnui.no) if you want to join one of our teams.
Please note that our students have first priority at NTNUI, so whether or not you'll be able to join the team depends strongly on the number of available spots on the individual teams.
And last but not least, do this if you want more information:
– Join our facebook-group "NTNUI Innebandy". This is where we post information for our members only.
– Like our facebook-page "NTNUI Innebandy". This is where we post more "general" information.
– Follow us on Instagram! NTNUI_innebandy is the name of our account.
Don't hesitate to ask us any further questions! We answer both emails or DMs on facebook, and will do what we can to help you.
Head-of-sports females: innebandy-sportslig-damer@ntnui.no
Head-of-sports males: innebandy-sportslig-herrer@ntnui.no
I hope to see you at practice!

Kamilla Mortensen
Leader, NTNUI Floorball