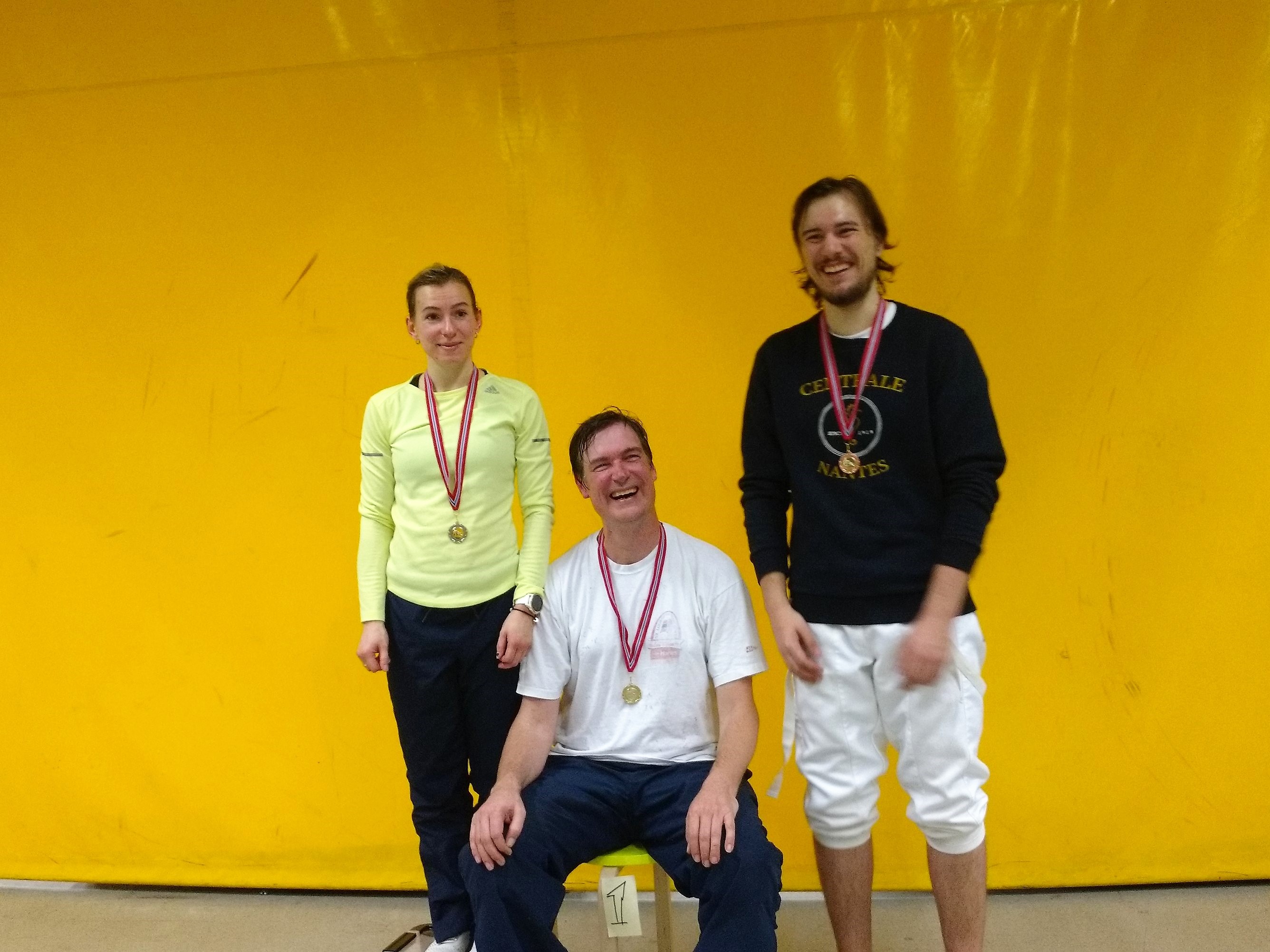 Saturday 3rd of November was the big day with this year's fall tournament hosting eager participants from NTNUI and Tordenskiold Trondheim Fekteklubb. Fencers of all ages fought fiercely for the title of BEST FENCER in Trondheim!
Tordenskiold's Irina barely qualified for the grand final after an immensely exciting semi final against NTNUI's newest and strongest member, Jules. Mats had a long journey, both in terms of his results and his trip in order to come to Trondheim and once again fence on behalf of NTNUI. He started the tournament horribly, struggling to get in to the round of 16 after an abysmal record following the group stage. Apparently this wake up call was exactly what he needed. His next match was probably the most exciting one of the whole tournament where he upset Tordenskiol's Adelė, eliminating her to 9th place! After another well fought match, Mats had bravely fought his way to the semi finals where Tordenskiold's seasoned fencer, Daniel, abruptly ended Mats' journey to the top.
In the bronze final Jules made quick work of an exhausted Mats, subsequently winning his first of many Norwegian medals to come.
The final's first minutes tipped in Irina's favor, forcing Daniel to change tactic and gradually closing the gap. Daniel's reach and expert movement proved too much to handle, and the American impressively settled the dispute, emerging as Tordenskiold's premier fencer!
With the majority of the top 8 placements NTNUI once again proved that we can go toe to toe with the big guys, although we have some way to go before we can grab the most precious metal for ourselves. Tordenskiold's fencers are as impressive as always, and we can not thank them enough for this event! We had a blast, learned a lot, and we look forward to the next event with Tordenskiold and hope for more cooperation in the years to come!
The complete results can be found below with NTNUI's fencers in bold:
Daniel Krause
Irina Aschehoug
Jules Paris
Mats Kristoffer Johannesen
Edward Fossberg
Martin Klefstad
Tomo

Đ

olović
Jørgen Wittner
Adelė Karbolytė
Otto J Wittner
Henrike Struck
Leif Alexandre Aschehoug
Rune Hagberg Stana
Polina Bravikova
Vidar Goldfine
Magnus Gilje
Emma Ditaranto
Elio Ditaranto
Hanne Hestnes Lervik